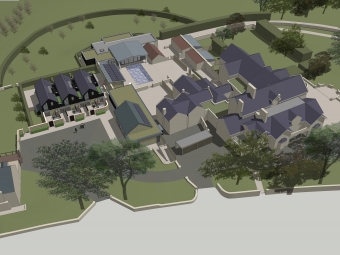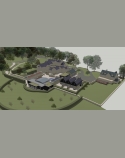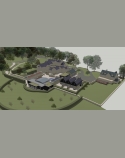 Green Belt planning consent secured for the expansion of historic Homewood Hotel & Spa
Homewood is situated in a highly sensitive landscape setting on the outskirts of Bath, within the Bath and Bristol Green Belt and Cotswold Area of Outstanding Natural Beauty. The proposals comprise the replacement of a number of existing buildings and the extension of others being retained. To secure consent the design needed to satisfy stringent Green Belt policies whilst overcoming significant ecology and visual impact constraints.
The development provides six new luxury guest suites each with their own private terraces and a small meeting and events space. In addition, extensions to the existing Spa will create a new entrance foyer, additional double treatment room, fitness suite and post treatment relaxation space. As part of the masterplan new landscape planting and additional parking will be also provided.
This contemporary but sympathetic scheme takes its design cue from the existing hotel buildings and adjoining former stables with an articulated roofscape seen against a backdrop of mature trees. The new guest suites take the form of three, two-storey, linked barns finished in charred timber cladding above rubble stone walling under slate roofs. Single storey 'infill' buildings use a similar material palette with roofs finished in sedum and zinc. The proposals are designed to be energy efficient, with heating provided by air source heat pumps and on-site renewable energy provided by discreet photovoltaic panels. A new wildflower orchard with mixed, native species hedgerow and a new bat house will provide an appropriate landscape setting whilst also enhancing on-site biodiversity.
Throughout the design and pre-APP process AEA worked closely with the Council officers to ensure the submitted proposals were supported from the outset. Despite considerable local objection from local residents and the Parish Councils, Bath and North East Somerset Council's planning committee endorsed the case officer's recommendation and approved the application last Wednesday 29th June 2022.
Owner, Ian Taylor commented:
"Since we took ownership of Homewood in 2018, I have had ambitions to make the most of its heart-capturing location overlooking the beautiful Somerset countryside which sits in Green Belt and AONB. I have always seen great potential with the barn, outhouses, and spa; and it has been our vision to transform them into spaces for luxury experiences with a touch of playfulness. It is a key objective of this project to focus on sustainability and achieve a design that is sympathetic to our neighbours in the local community, by taking into full consideration, ecology, and light spill, given our location on the top of the hill. I am delighted with the final result, which marks the last piece of the jigsaw in the Homewood rejuvenation project, quickly developing as a market leading boutique hotel"