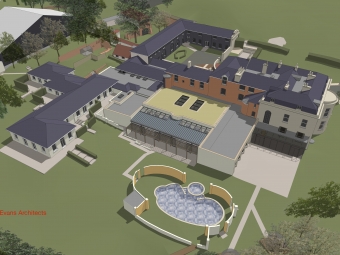 Planning & Listed Building Consents secured for expansion of historic Bishopstrow House Hotel & Spa
Bishopstrow House is an historic country house hotel situated to the south of Warminster in a sensitive and historic landscape setting. The main house was built for William Temple to a design by eminent architect, John Pinch the Elder, with work commencing in 1817. Converted to a country house hotel in the late 1970s it was also owned by the Blandy Brothers who bought the house in 1988 and carried out several improvements.
Today, Bishopstrow Hotel comprises a stone and brick main building with an L-shaped converted stable block, a series of modern extensions and several outbuildings. The main building is listed grade II and the whole site is a designated Conservation Area. Unusually, the property also contains three scheduled ancient monuments within the grounds, comprising two bowl barrows and a long barrow.
The Spa proposals will provide new, enlarged changing facilities, a total of six therapy and treatment rooms, sauna and steam rooms, an enlarged gym and fitness suite together with refurbished indoor swimming and hydrotherapy pools. New extensions will create a new post treatment relaxation space alongside a flexible private dining area enjoying views out to the west over the adjoining Spa terrace and gardens. Planning and Listed Building Consents were granted in October 2022.
In addition to the Spa, consents have also recently been granted for a series of sensitive, internal alterations to the main house to improve the layout of guest accommodation and the creation of additional luxury bedrooms with new terraces within the stable wing and former Somerset Suite. These interventions have been designed to respect the heritage significance of the site and provide a sustainable, long-term future for the hotel. AEA Director, Kevin Murphy said:
'These proposals have been carefully designed to minimise impacts upon historic building fabric and the character and setting of the property within the wider landscape. The contemporary but sympathetic additions will be energy efficient and significantly enhance and expand facilities originally added to the hotel in the 1980s.'
The Spa project is part of an overall phased masterplan for the site being developed by Aaron Evans Architects which also includes the expansion of existing dining and restaurant facilities and the creation of further, high-quality guest accommodation. As part of this, an application for the conversion and extension of a former 'hayloft' into a luxury, two-bedroom suite complete with private terrace garden and living room has recently been submitted.
The hotel's extensive gardens, including the historic river garden with associated historic gardenbuildings, will also be sensitively restored to their former glory. Bishopstrow Managing Director, Jonathan Walker said:
'2023 is a pivotal year for us as we invest in refurbishment and repositioning, entering into year two of our five-year expansion strategy. Our focus for 2023 is to continue to work and develop the extensive grounds and gardens, to bring them back to their former glory, not seen for over 40 years, together with a new addition of an eight-acre kitchen garden and orchard. There will also be a huge focus on improvements to our spa, expansion of our bedroom stock and overall guest experience.'