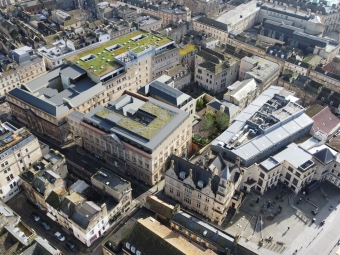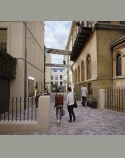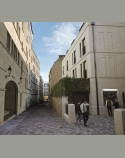 Landmark Planning Consent for 'The Min'
Appointed in October 2020 the practice was selected to design and negotiate proposals for his highly sensitive and controversial site following the refusal at committee of the previous proposals prepared by the original design team. Working closely with the client and a strong team of design, planning and communications consultants, the committee decision to grant both Planning and Listed building Consents was made in July 2021, within the 13 week statutory determination period.
Development of the proposals needed to consider a significant array of complex issues including rights to light, noise impacts, residential amenity, biodiversity net gain and sustainable design alongside and heritage and townscape impacts.
The scheme provides a total of 160 bedrooms including 27 within a new contextual extension. Restaurant, bar and lounge facilities will be offered in the 'West Wing' whilst a new Spa will be developed in the basement of John Wood the Elder's 'East Wing'. Overall the development will target a 38% reduction in regulated CO2 emissions whilst delivering a new garden, living walls and the introduction of a biodiverse green roof on the Min itself.
This project adds another signifcant city centre scheme to our extensive Bath portfolio supporting the citys post-covid economic recovery.